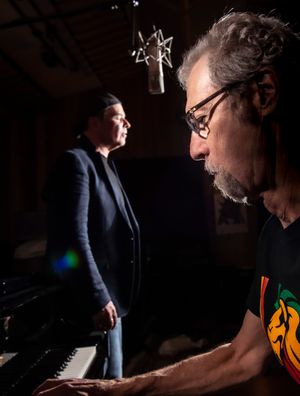 about meneely brant
While Coming Days is an exciting, freshly minted project from the talented duo of Dennis Meneely and Al Brant, it's just as true that the release of Coming Days, is the fruit of a "journey within a journey" from these two veteran prairie musicians. 
Both long-time residents of Edmonton, vocalist and songwriter Brant and keyboard ace, arranger and tunesmith Meneely have been key and highly respected players on the scene. As members of Tacoy Ryde, one of Canada's finest jam bands, their combined talents have been important components wherever they've been on display as members of various ensembles or special projects. 
However, it is their long association in Tacoy Ryde that has acted as the catalyst and launching point for the Coming Days project. 
"Just to be clear, this music isn't anything like what we do within Tacoy Ryde," says Meneely who has no problem remembering his introduction to Brant back in the nineties when the group was looking for a new lead singer. 
"Our bass player Duane "Wink" Smith had crossed paths with Al in The Eddie Patterson Project. He said Al could improvise and come up with interesting lyrics on the spot. He was also into the same kind of Peter Gabriel grooves we were into, and then he and our guitarist Barry Nighswander started writing together and we really found out what a good lyricist he was and how well he could weave together a story." 
On the flip side, Brant emphatically states that, "joining Tacoy Ryde was the gift of my life. It's a band that is always on the mark, it's a blast and as a singer I was caught up in their playing long before I joined the band." 
Fast forward a couple of decades and Meneely and Brant had enjoyed being each other's musical orbit when the idea of a duo project surfaced. 
Both talk of how there's almost a telepathic understanding of where each other wants to go when writing a tune. 
Meneely loves the fact that when he brings a melody and progressions to the table, Brant will start scatting the tune and it's one of a number of elements that makes the song writing process both gratifying and fun. 
Demoing material on computer allowed the two to create a substantial body of work and it was then that they invited highly respected producer/engineer Miles Wilkinson into the project. 
Wilkinson's resume is a great read, just like the album projects he's worked on for the past 40 years are a great listen. From his heady days in L.A. working on albums for the likes of Rodney Crowell and Willie Nelson, to critically acclaimed projects in a circle of artists in Nashville that included Guy Clark and Tim O'Brien, Wilkinson has also been a major player on the Alberta roots scene, lending his skills to projects by the late-Billy Cowsill, Karla Andersen and young talents like Braden Gates. 
Wilkinson's input was invaluable, and that his low-key approach and exceptional technical skills were just what the two were looking for. 
"Well Dennis and Al are very easy to work with and what we ended up with is an identifiable sound, and if we're talking comparisons there's a little bit of Steely Dan and a touch of Little Feat. I was able to bring a few of my arrangement ideas to the party and we just married it all," says Wilkinson. 
That the rest of the supporting cast makes a strong impression to Coming Days won't be lost on listeners either. 
From young bass player Dustin Roy, who apparently "danced around the studio, consumed by the grooves he was laying down with drummer Bill Hobson", to Mark Puffer and Samantha King's soulful vocal parts, there was an undeniably charged chemistry between the participants. 
"Just the guitar players alone were outstanding. Ralph Pretz, Percy Marshall and MonkeyJunk's Tony D were all in," recalls Brant. 
Everyone involved left the sessions feeling the songs were taken to a totally different level. 
Coming Days is an inspired batch of tunes built on muscular grooves, strong melodic and harmonic structures, intelligent and thoughtful lyrics, and tasty and top-drawer vocal and instrumental performances. 
With the album, Meneely and Brant can finally get these songs out to audiences, but the two are really itching to perform the songs in live venues.  That will have to wait for a while so dig into this fine new recording from two of Alberta's premiere musicians. 
Written by Peter North